With Basic, Allowance, Deduction, Gross, Net, Company Contribution, Incentives etc.

Core HR - Overview
Watch out the functionality in Arabic language for an overview of our Al Sahal Saudi HR Management System, how it helps right from the recruitment to the resignation process of employees and how employees will be able to manage their day by day operations with their login.

Successfully Manage Your Employees
Centralize all your HR information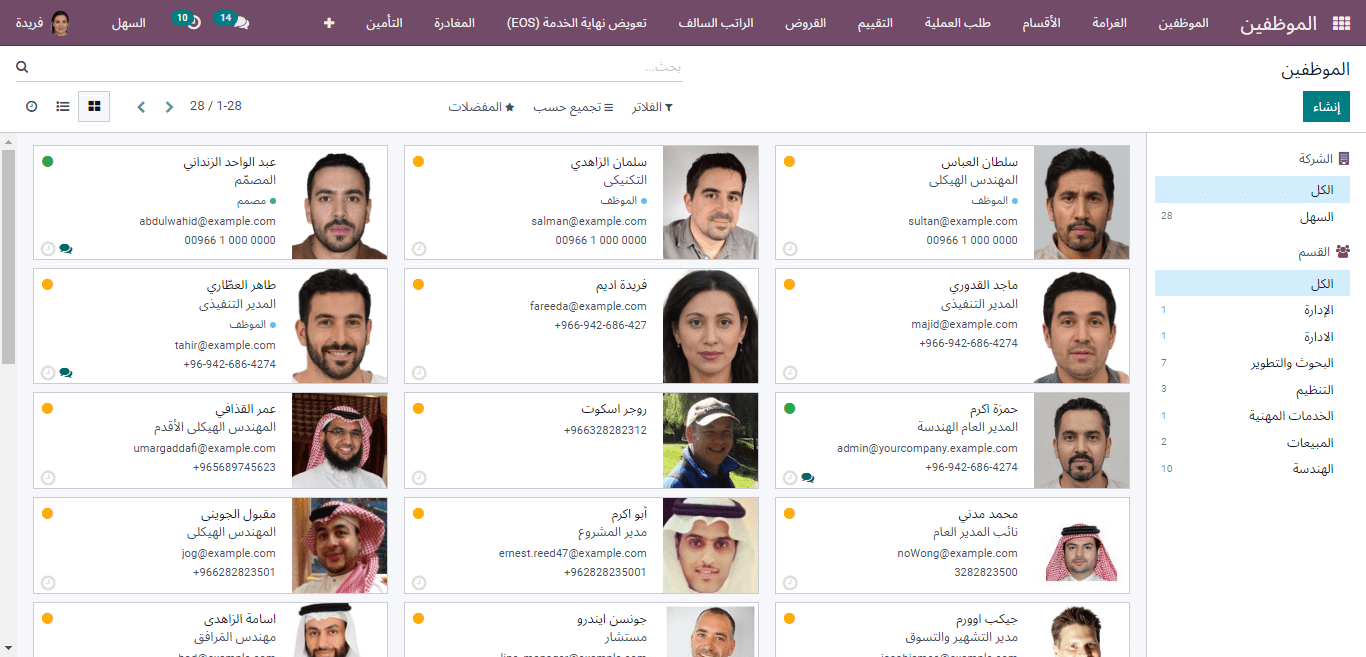 ​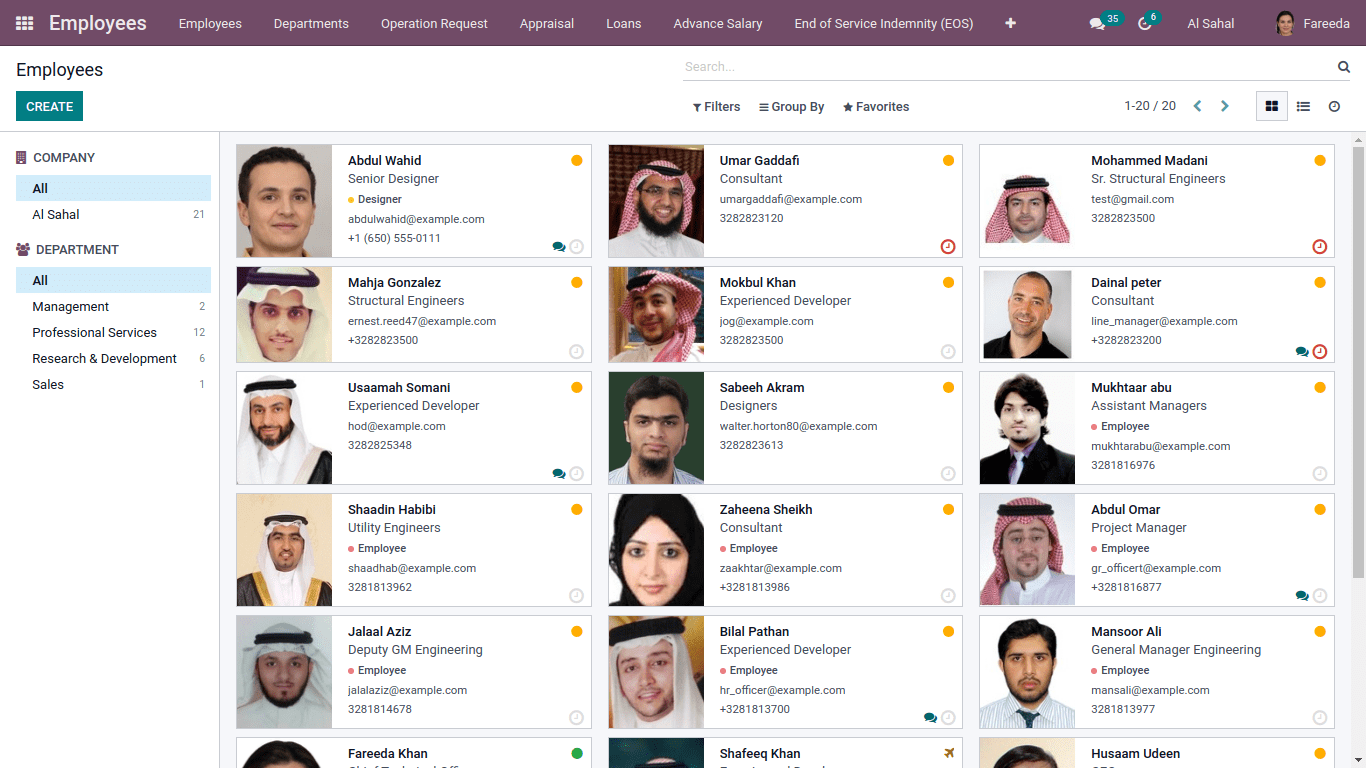 Create Employee Profiles
Gather all information concerning each employee in one place.
Manage Contracts
Keep track of your employees' status, job titles, contract type, dates, and schedule.
Handle Attendance

Keep track of your employees' presence at work. HR managers can easily report employees' monthly presence with the menu entry and state.
Manage Leaves

Manage holidays, legal leaves, and sick days.
Enterprise Social Network
Follow employees and documents, join discussion groups, share files and chat in real-time.
Gamification
Design challenges, goals & rewards with clear targets and objectives to drive engagement and reward your employees' performance.
Dashboards

Get a dashboard per manager.
Recruit Top Talents
Streamline Your Hiring Process:
Set up a job board to post open positions in just a few clicks and easily keep track of submitted applications. Oversee and manage your applicant pipeline and integrate the Odoo survey to create a screening questionnaire that automatically associates with the candidate record.
Attendance, Time Tracking, and Leave Management
Track Time & Attendance:
Weekly or monthly timesheets with optional attendance tracking. Keep track of the employee hours worked and sort by project, client, or tasks. Easily access statistics to record and analyze timesheets as well as check each employee's attendance. Integrated accounting automatically posts reports based on time spent in projects providing real-time data.
Attendance, Time Tracking, and Leave Management
Leave
Management:
Simplified tracking for employee vacation and sick days. Employees enter their requests (paid time off, sick leave, etc.). Managers decide to either approve or refuse time-off requests. Notification is sent to the employee and their calendar is updated automatically.


Employee Payroll and Streamlined Expense Management
Define Salary Rules, Pay slips & get expenses updated and approved fast.

  
Employees can easily submit and justify expenses. Managers can review all expenses and either approve or reject individual requests as needed. Once approved, expenses are immediately updated in Accounting.
Define Salary Rules:
With Basic, Allowance, Deduction, Gross, Net, Company Contribution, Incentives etc.
Pay Slips:
For Multiple batches, sections, and departments, Loan management.
Expense Management:
Manage employee's daily expense with expense receipt attachment, Review expense and validate it or refuse with comment.
Employee Evaluation and Appraisal Made Easy
Thorough evaluations without the hassle
Easily set up your evaluation process and calendar. Design form-based questionnaires to collect feedback from everyone in the company, from employees to managers, as well as self-evaluations.
Automate the entire process so that you can focus on people, not administration duties.
Create A Hierarchical Structure
Automated Organization Chart
Shareable Organization Chart