Contract Management
Manage Employees' Contracts
Employee's contract plays very important role in each and every calculation like working day, timesheet entry, absence, allowances and deduction, overtime calculation etc.

Watch the functionality in Arabic language that describes how HR Manager will be able to manage different employees' contracts.


Employee Contract Management
Proactive management of employee contracts and ensuring adherence to the terms and duties is one of the main responsibilities entitled to the human resources department. Employee contract management is simplified and it enables the HR department to use the saved time in performing strategic tasks that align with company goals.
Employee contracts play an important role between the employer and the employee that defines the rights and responsibilities between the two.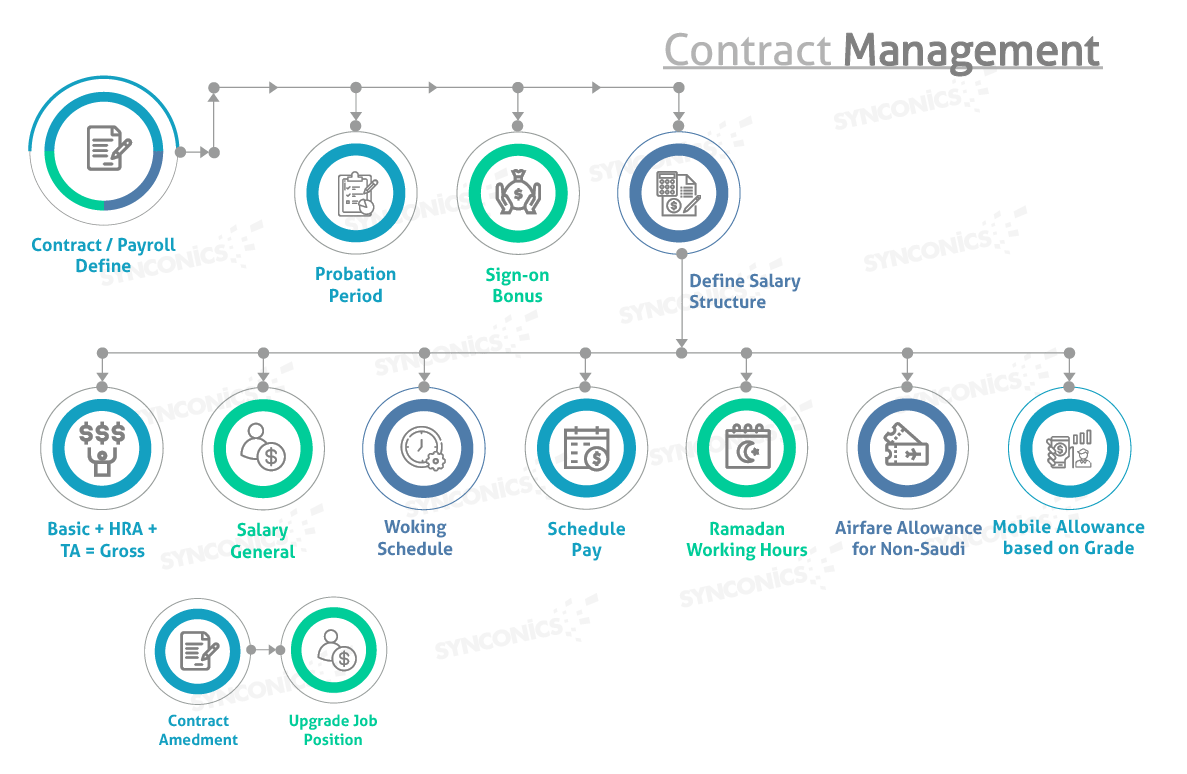 | | |
| --- | --- |
| | Payslips generated as per contract terms |

| | |
| --- | --- |
| | Contract amendment or upgrade option |

| | |
| --- | --- |
| | Mobile allowance based on grade |

| | |
| --- | --- |
| | Basic, HRA, and transport allowances |
Salary General

 

| | |
| --- | --- |
| | Salary structure with overtime |

| | |
| --- | --- |
| | Notice Period Duration |

| | |
| --- | --- |
| | Schedule pay |
| | |
| --- | --- |
| | Working schedule, days, holiday. |

| | |
| --- | --- |
| | Ramadan working hours |

| | |
| --- | --- |
| | Air Fair Allowance for non-Saudi |

| | |
| --- | --- |
| | Sign-on Bonus configuration |
 

Temporary Contract 

| | |
| --- | --- |
| | Fix-term Contract  |